Work for the Highest Rated Pool & Spa Company in Boston!
St. Cyr Pool & Spa is growing and we need more awesome people to join our team!
We have multiple positions available and hiring is always open.  The swimming pool and hot tub industry has seen a tremendous boom during the pandemic as many people focus on upgrading their homes. What better way than with a new hot tub or pool. This presents a great opportunity to get into this fun and rewarding industry.
St. Cyr Pool & Spa is located in Middleton, MA. We have a large pool and hot tub service division, as well as a full service retail store and spa showroom. These means we need, service techs in the field, support staff in the office, retail sales associates and warehouse managers to help keep our company growing and moving in the right direction.
For most positions no pool or spa experience is required, we will train. Just bring a positive and motivated attitude and we will help you learn the skills you need to be successful. Your success is our success.
If you are looking for a stable company with that small business feel that offers competitive pay, benefits, and a path for advancement as our organization continues to grow, this is the place. Take a look at our open positions and fill out a quick online application at the bottom of this page.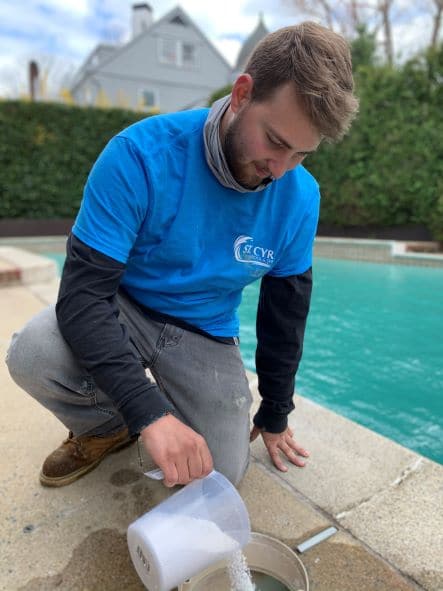 Click on job title to reveal full job description:
Do you like being active, working with your hands and being outside? St. Cyr Pool & Spa is looking for great people to join our service department for the 2022 pool season.
The Assistant Technician Job Entails:
Assisting lead technician on pool openings and closings
General labor on liner and renovation crews
Assisting repair technicians with equipment installations
Assisting with pool cleanings and weekly maintenance
Delivering hot tubs and above ground pools to customers
Maintain warehouse and loading dock space. Receive and stock orders for service department
No experience in pools or hot tubs is necessary we will train. A valid driver's license is required. Please see other requirements below.
Punctuality – Service Department arrives at 7am
Ability to work well with a team
Knowledge and experience with basic hand tools
Able to work outside in all weather conditions
Able to lift 100lbs and carry 50lbs daily
Able to listen and follow instructions of the team lead
Able to work more than 40 hours as needed during the busy summer months. (overtime pay applies)
Pay Range: $18-$20/hour to start.
Spend your days outside, on the road in some beautiful locations as a maintenance technician with St. Cyr Pool & Spa. We are seeking friendly , detail oriented people to join our maintenance department for the 2022 season.
As a maintenance technician you help pool and spa owners enjoy their backyards  by delivering crystal clear water that's ready whenever they want to soak.
This job is great for self-starters who can work solo as you will be running calls in your own truck once fully trained. A maintenance tech has lots of communication with the customer and develops relationships with their cleaning routes. Being friendly and able to communicate with clients is a big part of the job.
Maintenance Technician Responsibilities:
Perform routine maintenance on customer pools and hot tubs following our provided maintenance checklists
Lear to use our cleaning equipment such as; battery powered vacuums, pump vacs, and water testing equipment
Fill out detailed notes in our service software for each visit
Make sure your truck/van is properly stocked
Make sure chemicals are safely stored in vehicle to company guidelines
Keep vehicle cleaned out and organized daily
No experience is required we will train the right people, the right candidate should possess the following.
Valid drivers license
Punctuality – Service department arrives at 7am
Basic knowledge and experience with hand tools
Able to lift 100 lbs and carry 50lbs regularly
Able to work outdoors in all weather conditions
Able to learn and pick up concepts and procedures quickly
Willingness to provide great 5 star customer service
Pay Rate: Starting at $18/hr
Retail Associate Job Listing
Are you tired of corporate retail and want to join a fun growing locally owned company? St. Cyr Pool & Spa is looking for friendly and energetic people to join our retail staff for 2022. We offer our customers backyard fun, what could be better than helping people elevate their pool and hot tub experience?
Our retail store in Middleton MA is looking to expand our weekend hours and we are in need of 1 to 2 experience retail staff to help take the store to the next level. We offer competitive retail pay, sales commissions and bonuses. Full time year round staff are also eligible for benefits package after 90 days.
We have a very casual fun dynamic staff that you will love working with and we are committed to offering a 5 star customer experience (just check out our Google reviews!).
While our busy season does not start until May we are looking to begin training the end of March beginning of April.
Retail Associate Responsibilities:
Check out customers at the register
Perform water tests at our water lab
Perform daily store cleaning following our checklists
Keep shelves stocked and neat
Keep showroom hot tubs clean and looking great
Perform regular inventory counts
Keep warehouse shelves properly stocked and organized
Receive, check in and stock incoming shipments
Package and fulfill online orders from our website
Train on selling big ticket items like hot tubs and above ground pools
While experience in pools and hot tubs is not required we are looking for candidates with prior retail or hospitality experience that know how to deliver great customer service.
The ideal Candidate Will Possess The Following Traits:
Friendly and positive attitude
Punctual with reliable transportation
Attention to detail
Great communication skills
Available weekends (plan on rotating weekend scheduling)
We have both full-time year-round positions as well as seasonal and part-time retail positions available.
Pay Rate: $16-$18/hr Commission opportunities available as well.
Submit Your Application Below!