Hot tubs offer the perfect year-round retreat, and many people believe they require lots of power to run those powerful jets.
While this is certainly true for many models on the market, some break that mold, requiring lower voltage to maintain their blissful interior.
110V hot tubs do just that!
These spas are designed to require minimal voltage, and can even be plugged indirectly into a standard outlet!
Curious about everything these hot tubs have to offer, and the models you'd have to choose from?
Keep reading to find out!
Key Advantages of 110V Hot Tubs
110V hot tubs provide a range of benefits that are exclusive to their unique design.
Before we jump into the advantages of these hot tubs, let's get one popular question about them out of the way.
Do 110V hot tubs provide the same therapeutic environment you'd find in other models?
In short, yes!
While these models may not require the same amount of power to run, the powerful jets still provide a deep tissue massage while the warm water soothes aching muscles from head to toe.
Now that that's cleared up, let's dive into some of the key advantages these models offer.
Easy Installation
For the majority of hot tubs, your installation will require an electrician to come in and install the proper electrical hookup for your spa.
While you may have 220V hooks in your home for larger appliances, like your stove, most homes don't have plugs this large outdoors and will need to pay extra to get them installed prior to their spa's arrival.
110V hot tubs avoid this, only requiring a standard outlet to run.
This means installation is as simple as plugging it in, filling it with water, and waiting for it to warm up!
More Budget-Friendly
110V hot tubs are the ultimate budget seeker's dream.
These models don't require the same powerful components as larger spas, which means a smaller price tag just makes sense.
Not only that, but these spas also don't come with the cost associated with hiring an electrician and getting a whole new outlet installed.
Ultra-portability
110V spas are often lighter than larger models, making it possible to move them more easily.
This ultra-portability makes them a particularly attractive option for anyone renting since these models ensure they won't have to leave their investment behind when they move.
Not only is this great if you plan on moving in the future, but it gives you the flexibility to rearrange your yard anytime you choose, so long as you always keep it on a proper foundation.
Furthermore, because they only require a standard outlet, you could even move them inside should the desire ever arise.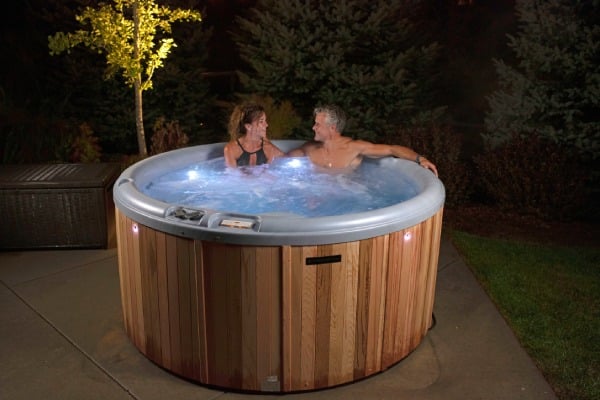 What to Consider Before Selecting a 110V Hot Tub
While these spas are more affordable than their 220V counterparts, there are some factors you'll want to take into consideration before choosing one of these models.
First and foremost, these spas take longer to heat since they use less power at one time.
Now, for many people, this won't be an issue, unless you plan to spend hours on end soaking under the water.
Because 110V hot tubs don't use as much energy at one time, they heat the water slower, which leads to water temperatures dropping slightly faster than in a 220V model.
However, if you're only soaking in your spa for one or two hours at a time, you'll likely never experience this as an issue.
This factor is especially important to consider if you live somewhere with frigid temperatures during the winter months.
Because of the extreme cold, your water will cool down faster during these months if your spa is installed outdoors.
This may result in a shorter time in the water. The good thing is that your water will still be able to provide a couple of hours of enjoyment before you begin feeling the effects.
Influential Factors of Choosing a 110V Hot Tub
The hot tub you choose all comes down to a few essential factors. One that's perfect for your needs and space, may not be the same as another's, which is why variation in the market is key!
Luckily, hot tubs come in many different forms, and you can easily determine which would be your perfect match by considering three things.
Your Budget
Possibly one of the most important factors is your budget.
Hot tubs come with a wide variation in price, so it's important to know how much you'd prefer to spend.
As we mentioned before, 110V hot tubs are much more affordable options, so if you're working within a smaller budget, these models may be just what you need.
But your overall budget isn't the only thing to consider. With financing, you can make your dream spa even more affordable, breaking down that initial cost into easily managed monthly payments!
Size and Shape
Square and rectangular spas are easily one of the most common and recognizable styles of hot tubs, but they don't work for every backyard.
This is where round, oval or even triangular hot tubs come in.
These models were made with unique spaces in mind, maximizing your usable area by not having large footprints.
After measuring your backyard, consider which style model would best complement the area you've chosen and make the most of your outdoor space.
Seating Options and Jet Patterns
Lastly, you'll want to consider the interior of your hot tub, thinking about how you'd like to use it.
While some hot tubs come with lounge seating, others boast a more open design. Some even include bench seating to maximize the amount of people you can share your spa with.
The jet patterns are also important since you'll want to ensure your spa aligns with the muscles that cause you the most trouble.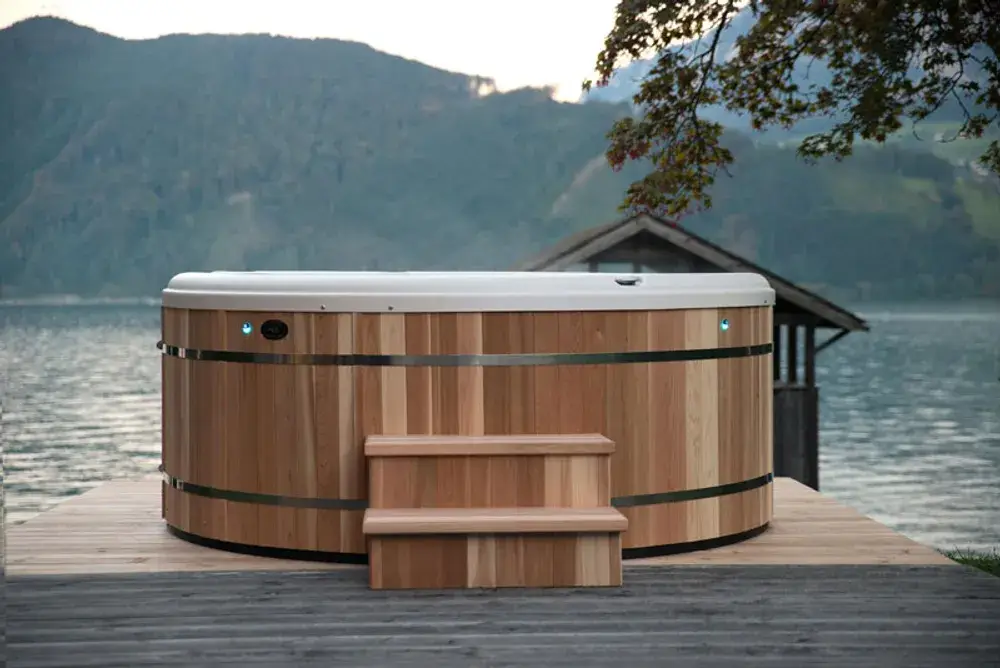 6 Top 110V Hot Tubs From Nordic Hot Tubs™️
Nordic Hot Tubs has made its mark in the industry with high-quality hot tubs that expertly combine traditional hydrotherapy (moving water) with deep-pressure therapy jets.
They've also made some of the most affordable and uniquely shaped hot tubs on the market, making them a popular choice for people across the world.
To bring this even further, they've created an entire line of 110V hot tubs, boasting a variety of designs to perfectly fit any space.
D'Amour All-In-110V™️
The D'Amour All-In-110V™️ model was made with small spaces in mind.
This corner unit spa easily tucks into any corner of your backyard, minimizing its footprint to allow for the majority of your backyard to remain open and usable.
This two-person spa is outfitted with eye-catching stainless steel jets, paired with the Dual Therapy System (DTS™️) this brand has become known for.
With its Permashell™️ Shell, this spa is sure to last you many years, withstanding wear and tear with ease while being backed by a limited lifetime warranty.
Crown All-In-110V™️
This circular hot tub boasts a range of seating heights, ensuring every guest you invite in can enjoy an equally therapeutic experience.
The Crown All-In-110V™️ has enough room for six, making it perfect for families of nearly any size.
Along one side, you'll discover a powerful whirlpool jet that'll send the warm water swirling around the spa to ease tension, while the jets clustered in each set expertly reinvigorate weary muscles.
This spa doesn't only offer a premium hydrotherapy experience but is wrapped in stunning Permawood™️ Cabinetry that combats the peeling or cracks you'd experience with traditional wood.
Stella All-In-110V™️
If you're looking for the perfect spa for intimate evenings in, the Stella All-In-110V™️ is the route to go.
This compact model has enough room for three, offering veritable seating to suit your ever-changing needs.
Lay back and relax in the No-Float Lounger™️ as the jets target your tense shoulders while your feet are treated to a luxury jet-powered massage.
Or, enjoy some lively conversation in the two forward-facing seats as you catch up with a loved one while enjoying the power of the jets behind you.
The choice is yours.
Warrior XL All-In-110V™️
Did the Crown All-In-110V catch your attention but leave you wanting more?
The Warrior XL All-In-110V may be just what you're looking for. While its 84" diameter matches that of the previous round model, its depth is where this model truly shines.
With an extra 50 gallons of water, paired with a variety of seat heights across the bench, this spa was made with height in mind, ensuring everyone can be fully submerged.
Furthermore, the Permashell™️ Shell comes in a range of colors, ensuring this spa can seamlessly fit within your existing backyard aesthetic.
Retreat All-In-110V™️
Were you a fan of the bench seating found in the circular models, but would prefer a rectangular design?
The Retreat All-In-110V™️ expertly combines these two elements, offering room for five while ensuring you can enjoy a variety of hydrotherapy experiences.
Along the bench, you'll discover a powerful whirlpool jet to keep water moving as you soak. Across the spa, there are twin corner seats to cradle your joints as the jets massage your back.
With the Nordic Clean™️ Ozone system, the water in your spa will remain effortlessly clean, reducing the amount of chemicals needed to keep bacteria at bay.
Sport All-In-110V™️
Feeling the pressure of a smaller space that simply doesn't fit most spas?
The Sport All-In-110V™️ was made with compact spaces in mind, making quality hydrotherapy experiences more accessible than ever.
With a diameter of 78.5", this circular model is one of the most compact versions offered by Nordic Hot Tubs™️.
Seating five, this spa is ideal for small families or anyone who wants the flexibility to enjoy both an intimate soak alongside a loved one, or maintain easy conversations with friends.
To amplify your time in the water after the sun sets, this model offers an optional lighting package that will set your water glowing!
110V Hot Tubs – Quality Hydrotherapy Made Affordable
When it comes to your hot tub, every element plays an important role in your experience.
110V models from Nordic Hot Tubs™️ have transformed the accessibility of hydrotherapy, making it possible for nearly anyone to harness the health and wellness benefits spas provide.
Not only do they boast impressively affordable price tags, but they ensure you'll never have to leave your investment behind.
Best of all, delivery day will be even easier, with their simple plug n' play design that allows you to easily get your spa up and running and on your way to your first soak in no time.
Whether the circular design of the Crown All-In-110V™️ model caught your eye or the unique corner style of the D-Amour All-In-110V™️ left you stunned, any model you choose is sure to leave you in pure bliss!
110V Hot Tubs for Sale at St. Cyr Pool & Spa
At St.Cyr Pool & Spa, we're passionate about bringing quality hydrotherapy to your backyard.
Offering a mix of brands and models, our showroom is filled with various hot tubs that ensure you can find the perfect one for your lifestyle and outdoor space.
Our selection of 110V hot tubs aims to bring the luxury of hydrotherapy to any backyard. Contact us to learn more, or visit us at our Hampstead or Middleton showrooms today.