SPA BOX 4 Month Kit
$139.99
SPA BOX – 4 Month Hot Tub Supply Kit. Everything you need to keep your hot tub clean, safe and balanced in between drain and fills.
Out of stock
Description
SPA BOX- 4 Month Hot Tub Supply Kit
Introducing Spa Box! – Our 4-month hot tub chemical supply kit featuring the Frog @ease Smartchlor System.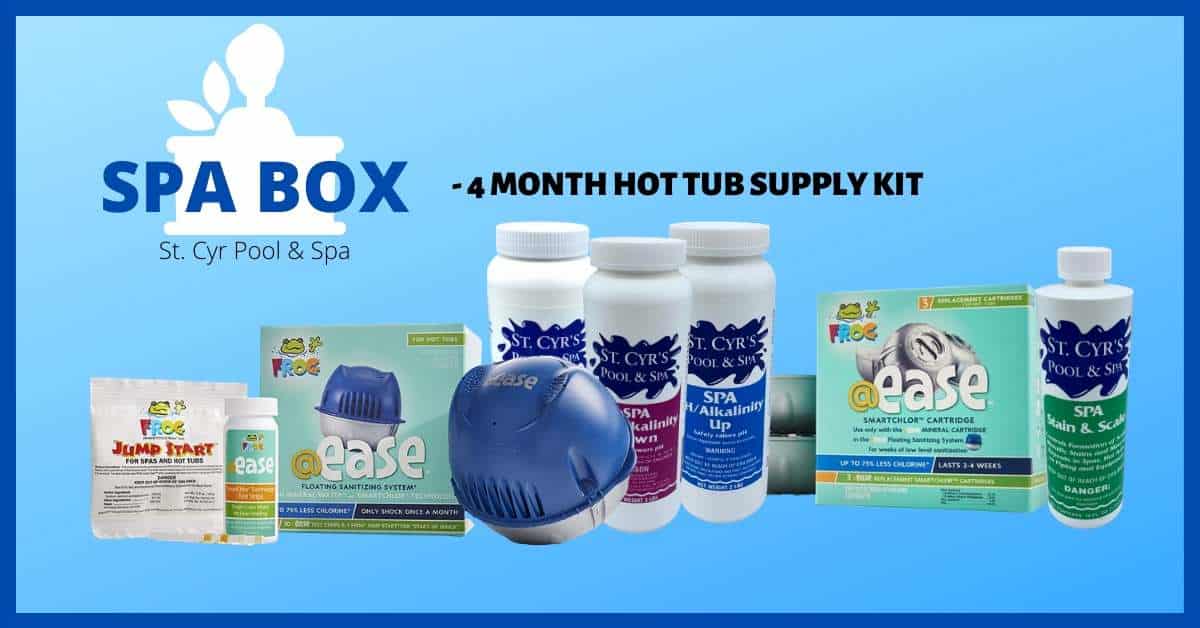 The Spa Box contains everything you need to keep your hot tub clean, balanced and safe to use.
Why 4 months? 2 reasons Actually
 We recommend draining and refilling your hot tub every 4 months. This helps refresh the water and optimize the sanitizer's efficiency.
 The Frog @ease system is also perfectly set up for this 4 months system. The Frog @ease Smartchlor cartridges last about 1 month and this kit comes with 4 cartridges. Their mineral sanitizer cartridge is also a 4-month replacement.
The kit also comes with a bottle of 50 test strips and a Jumpstart start-up shock packet.
We have also included all the water balancing chemicals you need – PH and Alkalinity up and down, as well as Calcium hardness increase. The sizes included will last at least 4 months until you need to reorder.
The last product we supply in the kit is Stain and Scale. We recommend using at least 1/2 bottle of this product when you re-fill your spa and before adding chlorine. Stain and Scale is a metal sequestrate and helps prevent discoloration caused by minerals in your tap water, such as; copper, iron, and magnesium.
What is Included in the Spa Box Kit?
Frog @ease Sanitizing System Start-up Kit
Frog @ease Smartchlor Replacement Cartridge 3 Pack
St. Cyr Ph/Alkalinity Spa Up 2lb Bottle
St. Cyr Ph/Alkalinity Spa Down 3lb Bottle
St. Cyr Calcium Increaser 2lb Bottle
St. Cyr Stain and Scale Control
Scum Ball Water Liner Control Sponge
4oz Measuring Scoop
FOR A LIMITED TIME ORDER SPA BOX AND GET FREE SHIPPING PLUS A FREE SURPRISE HOT TUB GIFT!
LEARN MORE ABOUT Frog @EASE SMARTCHLOR