Dolphin E70 Explorer Robotic Pool Cleaner With Caddy and Wifi
$1,999.00
The pinnacle of pool cleaning robotics is here with the E70 Robotic Pool Cleaner. With onboard wifi controls and easy to store caddy stand.
Best for large pools with heavy debris, and pool owners who want THE best hands off pool cleaning robot on the market.
3 Year Warranty
Description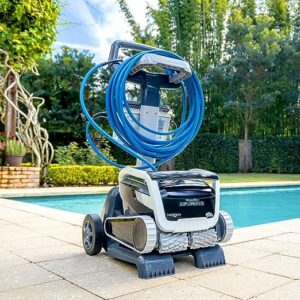 Unleash the extraordinary power of pool cleaning with the Dolphin Explorer E70. Pushing the boundaries of excellence, this Wi-Fi connected cleaner is a pinnacle of advanced cleaning technology. Packed with a plethora of cutting-edge features, it offers unparalleled convenience and flexibility. Experience a hassle-free cleaning experience without the need for manual labor. Elevate your pool maintenance to new heights with the Dolphin Explorer E70, the epitome of convenience and innovation.
3 Year Warranty
St. Cyr Pool & Spa is an Authorized Maytronics warranty repair center. We service all Dolphin pool cleaners in house. Our experts know Dolphins inside and out. We have been selling Dolphin Robotic pool cleaners in our brick and mortar retail stores for over 15 years.
St. Cyr Pool & Spa  – Family owned and operated since 1972
Main Features
Temperature Sensor
Sends real-time water temperature right to your smartphone
MyDolphin™ Plus Mobile app
Remote control of your dolphin e70 from anywhere
Powerful Active Scrubbing
Extreme scrubbing power to keep walls algae free
Pick-Up Mode
Smart pick-up mode drives itself to the edge of your pool so you can retrieve it easily
The Dolphin E70 In Action